CJA – United Brotherhood of Carpenters Workers Comp
At the Law Office of James M. Hoffmann. we represent injured employees who belong to the The United Brotherhood Of Carpenters And Joiners Of America.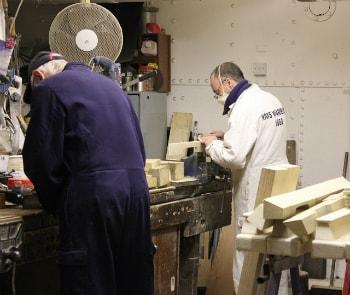 The United Brotherhood Of Carpenters And Joiners Of America union, is the largest building-trades union in North America. It consists of more than half a million members. When one of it's members is injured on the job, they should be eligible for workers compensation benefits.
In Missouri there are 41 unions. These include the Local 1008, Local 1770, Local 1925, Local 1875, Local 1795, Local 2214, Local 777, Local 1329, Local 2301, Local 945, Local 311, Local 1635, Local 0 in Kansas City, Local 61, Local 1181, Local 1529, Local 2016, Local 27, Local 607, Local 1904, Local 3202, Local 2298, Local 110, Local 795, Local 978, Local 1987, Local 185, Local 73, Local 2119, Local 602, Local 1739, Local 73, Local 5, Local 0 in St. Louis, Local 1596, Local 47, Local 417, Local 2030, Local 1310, Local 1839, and the Local 412.
Carpenters are at high risk of injury due to the nature of the jobs. Members of the CJA touch every aspect of a construction project. They work on both commercial and residential projects and use a large variety of tools and materials. Some of the varying skill sets include:
General Carpenters
Interior Systems Carpenters
Framing & Residential Carpenters
Lathers
Millwrights
Floor Coverers
Pile Drivers
Millworkers & Cabinetmakers
Workers Compensation Attorneys
The Law Office of James M. Hoffmann can provide you with the necessary information to make the right choices so that you can receive the best medical care, benefits and income. Attorney James M. Hoffmann has spent a majority of his more than 20 year legal career dedicated to protecting the rights of injured workers. He has worked with employees from a wide range of labor unions to pursue the right benefits or to appeal a denial of your injury claim.
If you have been injured at work, we want to talk to you as soon as possible after you have received medical treatment. Call us today at (314) 361-4300 or fill out our online contact form to schedule a free consultation.
photo credit: NH53