Workers Compensation Shoulder Injury
St. Louis Shoulder Injury Lawyers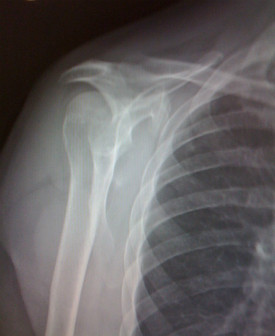 Shoulder injuries in the workplace are fairly common. They typically occur from repetitive arm movements or heavy lifting. Employees that are required to do throwing or overhead work are especially at risk.
You are eligible for workers compensation in Missouri if you have suffered a shoulder injury at work. You are entitled to receive prompt medical treatment and wage loss benefits if you are unable to work due to your injury.
Types of Shoulder Injuries:
Range of motion impairment
Peripheral nerve issues
Rotator cuff injuries
Dislocated shoulders
Frozen shoulder
Severe shoulder pain
Some shoulder injuries are minor requiring a short healing process with physical therapy, while others are more serious and require surgery or even long-term treatment. After an injury occurs it is important to let your employer know of the incident, they will then report it to their workers compensation insurance. The insurance company will determine whether or not they will provide medical care.
Insurance companies will often deny benefits. They dispute shoulder injuries by blaming your problems on arthritis or that the injury did not result from a work related incident. If your shoulder injury is being disputed, it is important to speak to a Missouri Workers Compensation Lawyer immediately.
Free Workers Compensation Consultations
The Law Office of James M. Hoffmann has practiced workers compensation law for over 20 years. We represent clients throughout the State of Missouri and in the greater St. Louis area. If you were injured at work, it is important to speak to a workers compensation lawyer about your legal rights and options. Please contact me, attorney James M. Hoffmann, for a free consultation about your case.
Call (314) 361-4300
Shoulder Injury Case Results
Workers Compensation: Machinist felt shoulder pain while using pipe wrench to tighten bolts above shoulder level.  Treatment obtained included rotator cuff surgery and therapy.  Workers compensation insurer paid all medical bills and wage loss, or TTD.  The case settled.

Workers compensation settlement for a warehouse worker who injured the right shoulder pulling on a pallet jack. Employer/Insurer initially provided physical therapy over a three week period and then refused further treatment. Experts were retained and deposed to establish causation and permanency. Client did not return to a physician until two years later. Client obtained surgery for right shoulder impingement, labral tear, and SLAP tear. Client eventually returned to work.

Rotator Cuff Injury Workers Compensation settlement for a denied rotator cuff injury claim. Employee worked in a warehouse. Employer/Insurer alleged a pre-existing degenerative condition. Experts were retained and deposed to establish causation and permanency. Case settled prior to trial.

Workers Compensation settlement for a denied repetitive use shoulder claim against an Employer. Insurance carrier denied the case alleging pre-existing shoulder complaints. Experts were retained and deposed to establish causation and permanency. Prior to trial, the case settled.

Workers Compensation partial settlement from employer for partial disability to shoulder, and an  additional award against Second Injury Fund for past due benefits and weekly checks for remainder of employee's life from the Second Injury Fund for a shoulder injury.

Workers Compensation settlement and second injury fund settlement for police officer shoulder injury requiring surgical repair.

Workers Compensation settlement and Second Injury Fund Settlement for repetitive injuries to shoulders.

Workers Compensation settlement for a denied shoulder injury.

Workers Compensation for workers compensation settlement for denied repetitive use shoulder injury from working in warehouse.

Workers Compensation for workers compensation settlement for shoulder injury.

Workers Compensation for workers compensation settlement for shoulder injury from lifting patients.

Workers Compensation for workers compensation settlement for shoulder surgery.

Workers Compensation for a workers compensation and second injury fund settlement for shoulder and lumbar strains from falling out of a chair.

Updated: