Workers in the excavation industry face many dangers, including death.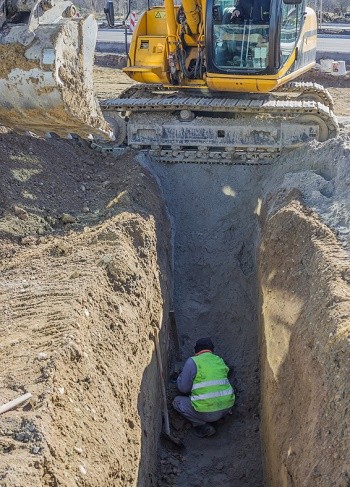 There are numerous hazards and risks associated with the excavation and trenching profession. There have been hundreds of fatalities because of collapsed trenches. According to statistics, the excavation industry has the highest fatal injury rate. Various agencies work to educate and monitor employers to provide the best protection possible for their workers.
Work-Related Dangers in the Excavation Industry
The work-related dangers associated with the excavation industry include:
Electrocution.
Suffocation due to the weight of soil covering the worker.
Falls.
Inhalation of lethal vapors.
Detonation of explosives.
Drowning.
Possible Causes of a Collapsed Trench
There is one hazard in this industry that induces fear among its workers. This is the danger of a collapsing side wall or trench, or a cave-in. A number of things may cause cave-ins or trench collapses, including the following:
Recklessness or lack of caution.
Failure to adhere to the safety guidelines in the trench.
Flooding.
Improperly-supported trench.
Improper excavation of the trench.
Defective equipment.
Equipment positioned along the edge of a trench.
Absence of suitable safety equipment.
Employers are required to follow safety regulations whenever trenches are excavated. They are also required to adhere to the safety rules in the construction of trenches. The Occupational Safety and Health Administration (OSHA) and other federal and state agencies closely monitor trench digging. However, the existence of safety measures alone does not provide any guarantees against cave-ins or trench collapses.
Work-Related Injuries Resulting From Trench Collapses
There are numerous serious and lethal injuries caused by cave-ins or trench collapses, including the following:
Cuts and bruises.
Leg and angle fractures.
Fractured hands, wrists, and arms.
Pelvic and hip fractures.
Injuries of the knee.
Asphyxiation.
Nerve damage of the limbs.
Drowning.
Amputation or crush injuries.
Pneumothorax or collapsed lung.
Internal injuries.
Head injuries that can result in brain trauma.
Injuries resulting from cave-ins or trench collapses may also lead to death. Although some workers may survive a cave-in or trench collapse, they may suffer severe injuries due to the accident. These work-related injuries may force an employee to take time off from work. There are some instances when the worker becomes permanently disabled. The injured employee will need assistance for lost income and medical expenses.
It is advisable that the employee consults with an experienced St. Louis workers' compensation attorney to ensure he or she receives all the compensation they are entitled to. Call The Law Office of James M. Hoffmann at (314) 361-4300.
Workplace Injury and Accident Causes
Updated: