IBEW – Electrical Workers Union – Workers Comp Lawyer
The Law Office of James M. Hoffmann represents injured employees who belong to the International Brotherhood of Electrical Workers.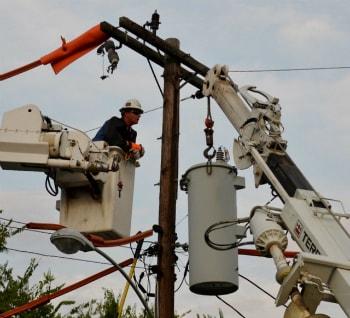 There are 19 unions in Missouri for the International Brotherhood of Electrical Workers. Some of these include the Local 257 in Jefferson City, the Local 1464 in Kansas City, the Local 1553 in Springfield, the Local 95 in Joplin and the Local 1439 in St. Louis.
This union represents the more than 750,000 active members who work in a variety of fields which include construction, manufacturing, railroads and utilities.
Work Related Injuries
The number one hazard that an electrical worker faces is that of coming in contact with an electrical current. Some workers are unaware of the potential electrical hazards that surround them every day. Electrical injuries include:
Electrocution – which can be fatal
Electric shock
Burns
Falls – due to contact with electricity
Electrical workers should have proper training and employers should make sure that safety measures are taken to protect their employees from potential risks.
In addition to being injured by an electrical current, there are other risks associated with electrical workers. Some of these injuries include broken bones, brain injuries and back injuries. Some workers are required to work on ladders or on scaffolding, this can create the risk of falling and injuring ones self.
St. Louis Workers Compensation Lawyer
If you are a member of the International Brotherhood of Electrical Workers and have been denied benefits do to a work related injury, contact the Law Office of James M. Hoffmann at (314) 361-4300 or fill out our online contact form to schedule a free consultation.
For more than 20 years we have worked exclusively in the areas of Missouri workers compensation and personal injury for clients in St. Louis and throughout Missouri.
Workers & Industry
photo credit: Tobyotter