A man and woman, are being charged with 93 counts that include theft, perjury, and falsification of business records.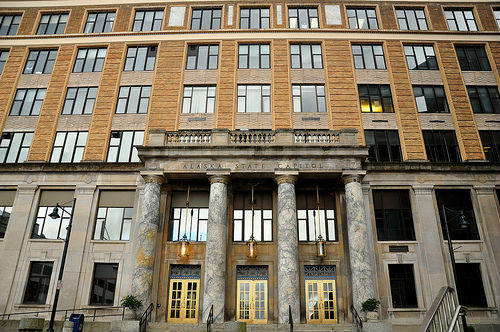 While the pair currently reside in Wisconsin, the fraud that they are being charged with occurred in Alaska, where the man was a state employee and the woman was supposedly his masseuse.
Prosecutors for this case relate that the two defrauded the state out of more than $20,000 in workers' compensation benefits. At the time, the man worked for the Department of Transportation as an operator at a weigh station. In 1999 he was injured on the job and years later settled his workers' compensation claim with the state for $201,500. Included in the settlement was the agreement that the state would pay for Groom's medical treatment.
The prosecutors claim that the two submitted fraudulent workers' compensation reimbursement claim, stating that he was getting massage treatments from her, but that he never actually received any treatment, but that they later lied about it.
Both individuals could face long prison sentences of up to 10 years each and could have to pay fines of $100,000 if they are convicted.
Workers' compensation is supposed to help workers who are injured on the job to receive medical treatment for the injuries they sustained. In addition, workers' comp benefits can include benefits for wage loss, therapy, medication, vocational training, and temporary disability. In exchange for providing benefits, regardless of whose fault the injury is, employers are protected from workers taking civil action against them or trying to obtain more money later on. When the system works, both parties benefit significantly. But at times, some employers and employees try to fraudulently work around the system.
Employers will sometimes deny injury claims or use biased doctors to perform medical exams or misclassify workers in order to avoid buying workers' comp insurance altogether. And employees will sometimes fake injury or try to get more money than is needed.
As a result of some of these deficiencies in the system, workers' comp laws in many states are constantly in a state of flux. Some states are trying to completely overhaul their workers' comp laws in order to implement a more efficient workers' comp administration. But this can make it difficult to stay on top of understanding the current state of the workers' comp systems.
Missouri Workers' Compensation Lawyers
It is important to contact an experienced Missouri workers' compensation attorney who can help you to better understand your rights and benefits and what you can expect from filing a workers' compensation claim. It can be hard to know how to maximize your chances of getting the full benefits you deserve, and the process can be discouraging when insurance companies fight back or resist paying you benefits. Having the help of an attorney can make all the difference and can help give you peace of mind in knowing that you have an advocate who understands the laws in the state of Missouri and will fight for your right to get the compensation that you deserve so that you can focus on recovery.
Contact the Law Office of James M. Hoffmann for your free consultation.
photo credit: kimberlykv