If you have been denied your workman's compensation claim, see the counsel of a Missouri workman's compensation attorney. This is not a burden you should have to bear.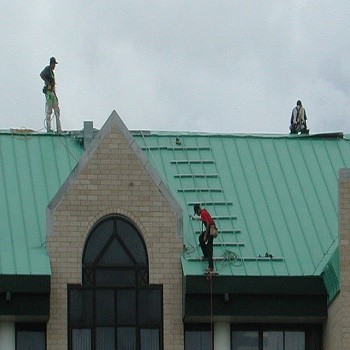 The roofing industry is considered to be high risk for workman's compensation insurance companies. Most are small companies with just enough employees to make the insurance necessary yet very expensive for the business owner. For this reason, they will often attempt to deny the claim in an effort to keep their costs low. If you are a roofer who has been injured while on the job, you have a right to your workman's compensation. Speak with a St. Louis workers compensation lawyer if your employer is attempting to deny you your rightful coverage.
The Fifth Most Dangerous Profession
The roofing industry has been named the fifth most dangerous profession based on fatality statistics. This helps explain why your employer's premiums are much higher than those of other types of businesses. Hazards related to roofing occur with high frequency, despite efforts made by employers to implicate safe working practices. The height at which a roofer is required to work puts them at great risk for serious and even deadly falls.
The injuries that are sustained if there is a fall are usually severe in nature. They can include head trauma, spinal cord injury, and broken bones. Extensive hospital stays with multiple medical procedures are usually necessary for recovery, and oftentimes the injured worker is left with a permanent disability.
When Your Claim Has Been Denied
If your claim for workman's compensation is denied, the reason given by your employer is probably that your debilitating injury was a pre-existing condition, not the result of your accident. At this point, you may file an appeal and have your case heard by a judge who will make a decision based on the evidence presented. This process is not easy and necessitates hiring a St. Louis workers compensation lawyer. At the hearing, both parties are given the opportunity to present expert testimony regarding the injury. Your attorney will be able to help you obtain the most compelling experts to help you make your case.
Head and neck injuries suffered by a St. Louis roofer were deemed pre-existing by his employer who refused to continue paying for the necessary treatment. After hearing arguments from both sides, the administrative law judge ordered that the employer pay $300,000 to the roofer to cover the remaining costs of his treatment plus the on-going care he needed. It is not uncommon in cases like this for an employer to cease making payments for medical care once it becomes apparent that an expensive procedure is necessary.
Be Vigilant About Protecting Yourself
The high turnover rate of employees in the roofing industry can make safety training programs futile. Those companies that do not have an effective safety program in place are prone to injury with their employees. An experienced roofer should know the risks associated with his job and be vigilant about protecting himself and his coworkers from catastrophic falls.

If you were injured in a fall from a roof and denied workman's compensation, seek the counsel of The Law Office of James M. Hoffmann at (314) 361-4300. The motive behind your employers denial is most likely financial, yet this is not a burden you should have to bear.

Photo credit: Editor B

Updated: