Construction workers have one of the most dangerous occupations in the U.S.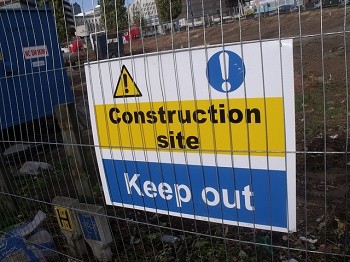 Construction workers do the important job of maintaining infrastructures and erecting new structures. It is described as one of the most dangerous occupations in the U.S., as workers have to work at heights, using heavy and dangerous equipment. They also have to deal with toxic chemicals and several other on-site hazards.
Safety Regulations for Construction Industry
The National Institute for Occupational Safety and Health (NIOSH) provides standards to the construction industry to prevent workplace accidents and injury. It offers guidelines for implementation of safety regulations and procedures at construction sites. According to statistics released by the NIOSH during 2010:
The construction industry witnessed 774 fatal workplace injuries, which is more than any other industrial sector.
The total number of fatalities for construction accidents made up 17% of all workplace deaths in the country.
The Risks Construction Workers Face On the Job
A worker from a Eureka, Missouri construction company was seriously injured on the job, which resulted in the company being issued with a severe reprimand, including disciplinary action from the Occupational Safety and Health Administration of the U.S. Department of Labor. Official reports indicate that the construction company was given 11 safety citations after the incident, which occurred when the worker was hit by a sewer pipe. The worker was knocked into a trench measuring 13-feet, which resulted in a fractured vertebra.
The company was fined $110,400.00, and this included citations for several other on-site hazards which could have potentially caused injuries to workers. It included inappropriate inspections and other dangers, such as the use of equipment close to live power cables. Reports from accident investigators stated that the company received citations for one willful violation linked to the incident. This implied that the company's management opted to continue using unsafe practices on their sites. In this particular incident, the worker was hit by a sewer pipe as it was being moved by another piece of equipment. He was tossed into an improperly installed trench that lacked proper safety equipment that could prevent walls from collapsing or caving in on workers.
Safety a Top Priority
The incidence shows that safety should be a top priority for construction companies. Adequate training, suitable safety equipment, and constant planning should be used to prevent workplace injuries. Workers are often not provided suitable tools for the job and may lack appropriate safety gear. The failure to implement safety procedures can result in workplace injuries and fatalities, which can in turn invite citations and fines.
If you have experienced a work-related injury and need help receiving workers' compensation benefits, call The Law Office of James M. Hoffmann at (314) 361-4300.
Photo credit: Eliott Brown via Flickr