IAFF – Fire Fighters Union Workers Comp Lawyer
The Law Office of James M. Hoffmann represents injured employees who belong to the International Association of Fire Fighters.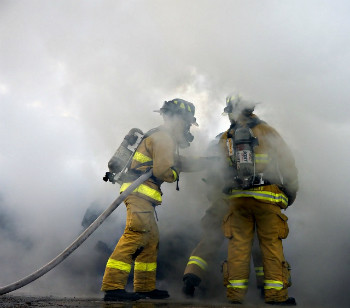 The International Association Of Fire Fighters represents more than 300,000 professional fire fighters and paramedics throughout the United States. There are 2 unions in Missouri, the Local 24 in Blue Springs and the Local 108 located in Rolla.
Fire Fighters Work Related Health Risks
Fire fighters bravely face a number of work related health risks. In addition to the obvious inherit risk of working around fire, mental and physical stress can also be factors. They are also at risk of developing cancer, heart problems, and respiratory disease. Paramedics are at risk of contracting hepatitis B and C due to coming in contact with a persons blood that may be contaminated with the viruses.
Fire fighters are more likely to be smokers, due to the stress they are under caused by fighting fires. Heart disease is another risk. Fire fighters are required to work around hot fires while carrying heavy loads. The exposure to carbon monoxide is dangerous to their heart health.
Contact a Workers Compensation Lawyer
The men and women that serve as fire fighters and paramedics in Missouri, often put themselves in harms way to protect us from dangerous situations. If you are a member of the International Association of Fire Fighters and have been injured on the job, contact the Law Office of James M. Hoffmann at (314) 361-4300 today.

For more than 20 years we have worked exclusively in the areas of Missouri workers compensation and personal injury for clients in St. Louis and throughout Missouri.

photo credit: AMagill

Updated: