An estimated 40,000 injuries and illnesses are reported in the meatpacking industry each year.
While work-related injuries can occur in any industry, some industries are known to be much more dangerous than others. According to the Bureau of Labor Statistics (BLS), meatpacking is one of the most dangerous industries in the United States. Each year, over 40,000 injuries and illnesses are reported in this industry. Here are some of the risks faced by workers in the meatpacking industry.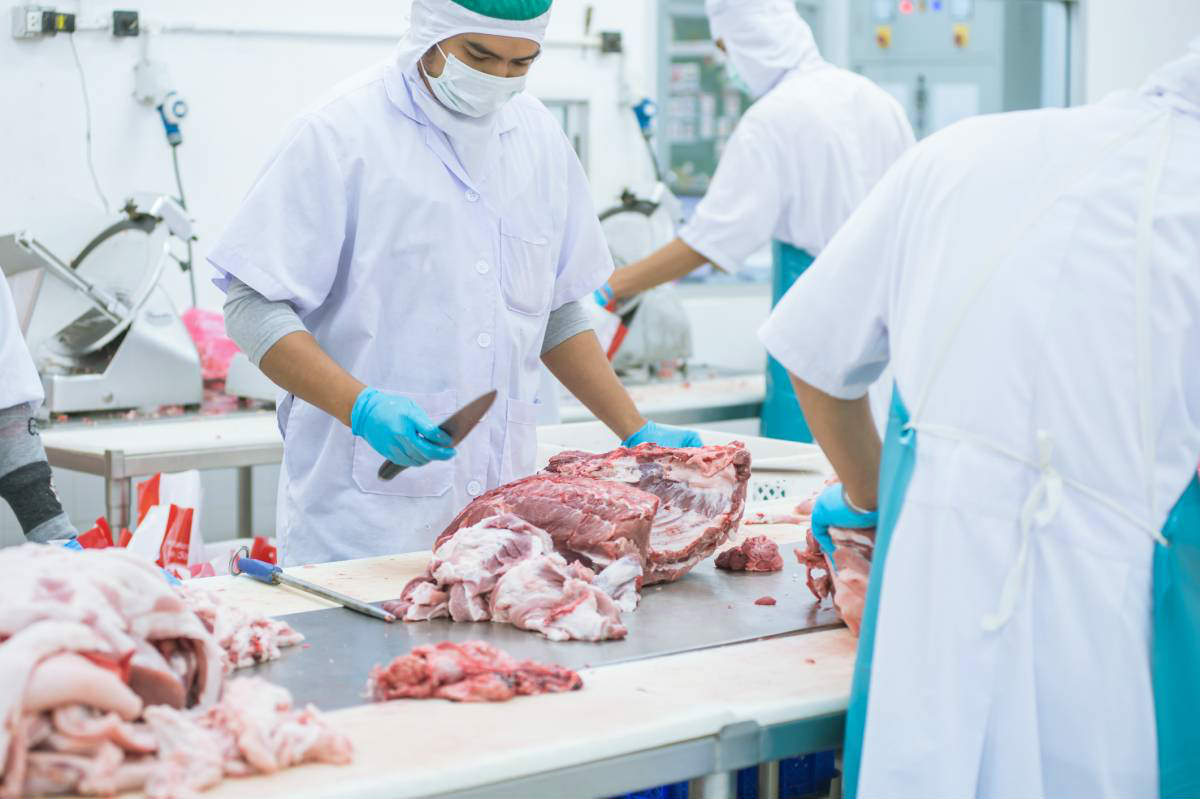 The American Meatpacking Industry
In the United States, over 100,000 workers are employed in the meatpacking industry. In 2015, the meatpacking industry was called the most dangerous industry in the country by BLS. According to the available reports, the risk of workplace injuries in the meatpacking industry is high because workers have to work with sharp knives and tools and have to stand for long periods of time while working on fast-moving lines. Moreover, the factory floors are slippery. Meatpacking workers are also exposed to extremely hot or cold workplace conditions.
As discussed earlier, Bureau of Labor Statistics (BLS) reports reveal that more than 40,000 workers suffer serious illnesses and injuries in the meatpacking industry. However, many injuries go unreported because workers fear job loss or retaliation. There are cases when the employer pays the workers some incentives to lure them into not filing a workers compensation claim.
OSHA Reports
According to the Occupational Safety and Health Administration (OSHA), the meatpacking industry is a high-risk workplace. Employers must be familiar with OSHA safety laws and the various reports that show serious injuries to workers. Some of the most common injuries that meatpacking workers are exposed to include:
Knife cuts: Meatpacking workers often suffer cuts and abrasions to the hands and torso while working with knives. The hand knife is the most commonly used tool and is responsible for many severe injuries.
Back Injuries: Back injuries are also common among meatpacking workers employed in the shipping department. Also known as "luggers," these workers are required to carry carcasses as heavy as 300 pounds on their shoulders for shipment.
Slip and fall accidents: These accidents are responsible for some of the most serious injuries in the meatpacking industry because the floors are often slippery and wet from animal blood, inadequate drainage, and leaking pipes.
Repetitive Stress Injuries: These injuries are quite common among meatpacking workers. One of the most commonly reported cumulative trauma injuries is carpal tunnel syndrome. Some of the other common injuries include tendonitis, hand, elbow, shoulder pain, and arthritis.
Exposure to toxic substances: Workers in the meatpacking industry are exposed to toxic substances at the workplace. Some common toxic substances that can damage a worker's health include ammonia, polyvinyl chloride, and carbon dioxide.
Injured in the Workplace?
Missouri has rules in place that are supposed to support and help people who have suffered an on-the-job injury. Yet, many injured workers are denied benefits or are only given a percentage of what they should actually receive.
If you were injured at work, it is important to speak to a workers' compensation lawyer about your legal rights and options. Contact the Law Office of James M. Hoffmann at (314) 361-4300 or fill out our online contact form to discuss your case today.
Speak With a Workers Comp Attorney
Give us a call 24/7 for a FREE Case Evaluation
Call (314) 361-4300
Workers & Industry
Updated: