St. Louis window washers often work in risky environments to make a living.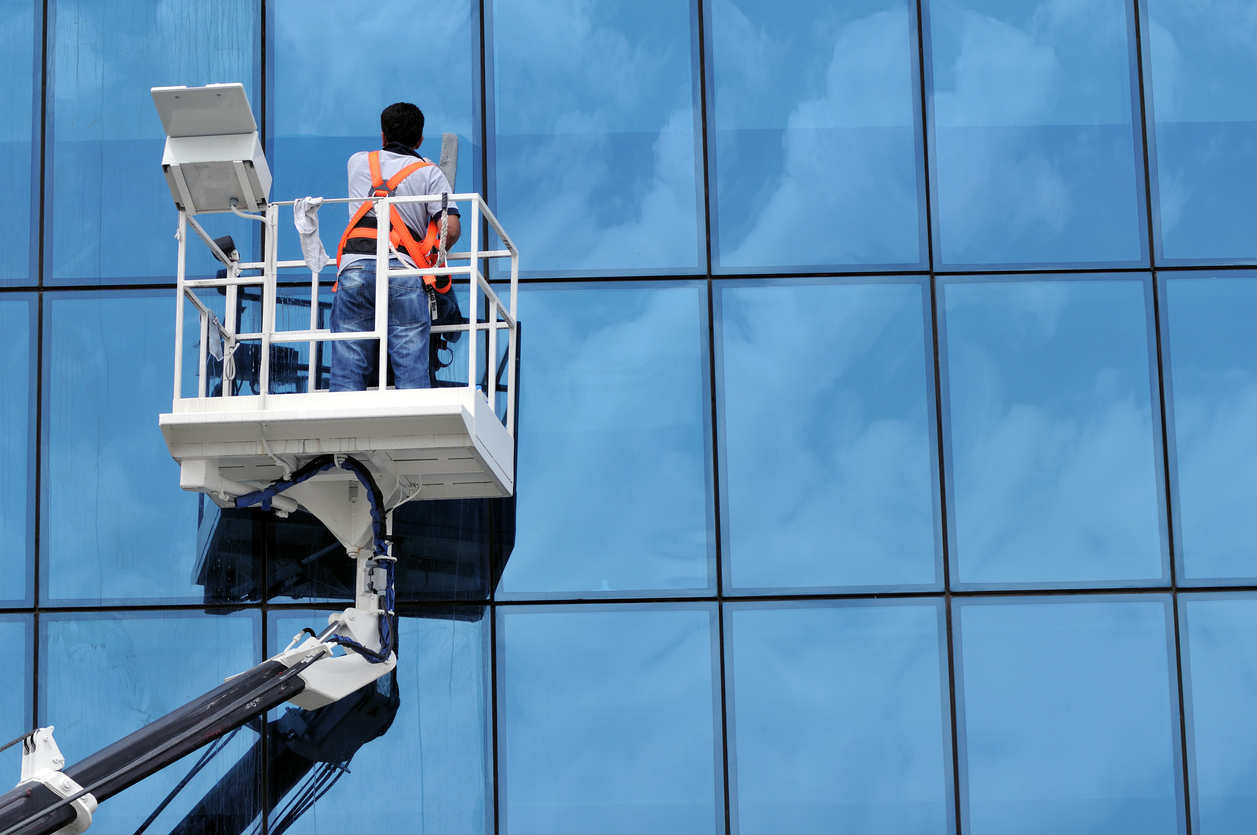 St. Louis is full of tall buildings, and their owners rely on the services of professional window cleaning companies and their workers to ensure that their exteriors are always clean. Window washers have to work in risky environments to make a livelihood. Window washing is considered a high risk job considering all the risks involved, however, if all safety measures and precautions are strictly followed, the risk of a workplace accident becomes minimal.
Our St. Louis work injury lawyer explains that window cleaning workers often have to work from great heights, exposing them to additional risks posed by strong winds and glare from double panel glass. However, wearing proper safety gear such as protective googles and harnesses can make a huge difference. Having a stable and movable scaffolding, and a safety stop mechanism connected to the harness can eliminate the risk of free fall situations, which can prove fatal if these safety measures are not followed.
In this post, we will discuss the risks faced by window washing workers and what the responsibilities of the employers are.
Responsibilities of the employer
Like in all other industries, employers and supervisors in the window washing industry too have the responsibility of ensuring that all safety gear is thoroughly inspected, and ensuring that other equipment and items are working properly before the worker gets on with the work. Additionally, the employers and supervisors should acquire appropriate safety permits and licenses on the workers account to make sure that all city ordinances are strictly followed during the window cleaning process.
Employers should also ensure proper maintenance of all window cleaning equipment on a regular basis, and should follow the International Window Cleaning Association standards, and carry out regular inspection of all equipment to prevent any accidents resulting from defective products.
Common injuries faced by window cleaning workers
Some of the most common window cleaning injuries suffered by workers in this industry include:
Being struck by a falling object
Whiplash due to a fall that was stopped by the worker's harness equipment
Spinal cord injury
Chemical exposure
Traumatic brain injury
Most injuries that result from window cleaning accidents are serious in nature, and result in severe and often life threatening injuries. Injuries such as traumatic brain injuries and spinal cord injuries can render the worker completely disabled for the lifetime. Even if the worker recovers from the injury, he/she may never be able to return to their existing job.
Workers compensation benefits for Missouri window cleaning workers
If you are Missouri window cleaning worker who has suffered injuries in a workplace accident, you may be able to claim workers compensation benefits. Generally, these benefits cover your injuries and a part of your lost wages. If your injury is a result of equipment failure or other type of third party negligence, you may be entitled to additional compensation from the party at-fault. Contact our experienced workers compensation attorneys to learn more about your right to compensation. Call the Law Offices of James M. Hoffmann 24/7 at (314) 361-4300.

Updated: