Chronic illness or pain is a condition that does not heal easily and normally lasts for years.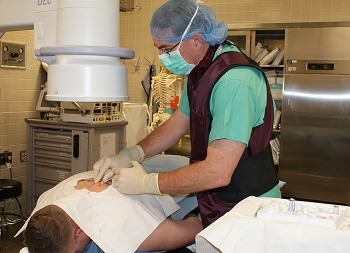 In some cases, this condition may persist for a lifetime. A large number of Americans suffer from chronic pain, which makes them eligible for workers' compensation benefits.
Chronic Pain Caused by Work-Related Injuries
The word "injury" encompasses numerous things under the workers' compensation system, including fractured bones and invisible injuries, such as:
Damaged and pinched nerves.
Stinging feeling along the hands, arms, feet, or legs.
Occupational illnesses resulting from regular contact with toxic materials and chemicals while working. These illnesses include mesothelioma and asbestosis.
Recurring stress injuries, such as carpal tunnel syndrome.
These injuries are considered to be chronic. The pain and uneasiness caused by these injuries or illnesses is long lasting. Workers' compensation offers similar benefits for work-related chronic pain. However, it is essential for the chronic condition to be connected with the work of the employee. In order to receive workers' compensation benefits due to arthritis, diabetes, lung cancer, and other chronic conditions, the employee should prove that it developed due to his or her work.
Steps To Take if You Suffer From Work-Related Chronic Pain
If you suspect that the chronic pain you are experiencing is a result of a workplace injury or illness, you should take the following steps to receive benefits under the workers' compensation system.
The first thing that one should do is to consult a medical professional.
The employee should immediately inform the employer about the injury. They can inform the supervisor or the human resources division of the company.
A workers' compensation claim should be filed by the employee using the forms provided by the employer. Employees can consult an experienced St. Louis workers' compensation lawyer if they have some questions about the form.
The claim should be filed without any delay to make sure the benefits are released as soon as possible. The statute of limitations limits the period in which a claim can be filed. In Missouri, employees suffering from an occupational illness or workplace injury have two years after the date of injury or the date when illness was discovered to file a claim.
It is advisable that the injured employee seeks help from a lawyer since there are chances that the insurance company may limit or deny compensation. It may be difficult to prove a work-related chronic illness. The process of filing the claim and acquiring the necessary benefits can be facilitated by a qualified lawyer.
Chronic pain or illness can have an adverse effect on the life of an employee. Employees should make the most out of the state workers' compensation laws if they are experiencing work-related chronic pain. Contact The Law Office of James M. Hoffmann at (314) 361-4300 for legal guidance.
Work Related Injuries
Photo credit: Army Medicine via Flickr

Updated: