When trucks are not in compliance with federal regulations, the results may be catastrophic.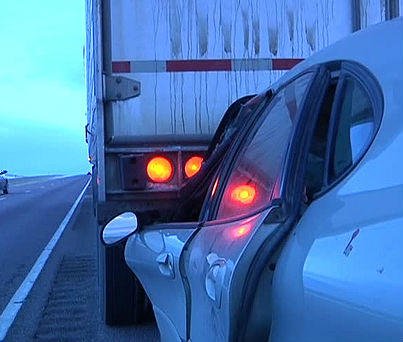 A Los Angeles resident made national news last March when he escaped certain death, simply, by ducking. The Corvette he was driving collided with a moving truck and pushed itself under it. Had the man not ducked he would have been decapitated. Believe it or not, this is not something unheard of in the trucking industry and there are federally mandated regulations to prevent it from happening.
Trucks are obviously at a height greater than that of cars. The space between the road and the bottom of the truck allows for a car to partially go under it in a collision. This is known as under riding. At high speeds the roof of the car can sheer off, potentially killing, or at least severely injuring, those in the car.
There are two different types of under ride accidents. The first one is like the above mentioned accident. A car, most likely traveling at a high speed, collides with the back of a trailer that is either parked or slowing down. The force of impact pushes the vehicle underneath the tractor. The driver of the Corvette walked away with non-life threatening injuries, partly for his quick thinking in lowering his head, and partly because the truck was equipped with a federally mandated Mansfield bar. In an accident where the tractor does not have a bar or it is set too high, the occupants of the car will suffer severe head trauma or even decapitation. The Federal government mandated the use of a safety bar in 1967 after a rear-end collision with a commercial truck killed actress Jayne Mansfield.
A Mansfield bar is attached to the back of a trailer and typically should be 22 inches off of the ground in order to prevent a car from being able to pass under it. Unfortunately, like the Corvette, some cars have low leading edges that allow for them to clear it. If you were injured after an under ride accident, talk over your case with a Missouri truck accident attorney. Rear end safety bars are a federally mandated requirement. If your vehicle was able to pass under it, then the truck driver may have been negligent with its placement.
Missouri Truck Accidents
The wife of a Missouri driver received a $1.6 million settlement for the wrongful death of her husband. He was driving a convertible that collided with a flat bed trailer that was backing up on the highway. The low riding convertible cleared the Mansfield bar, killing the driver instantly.
An accident involving a car going under the side of a truck is most likely to occur at night, when a driver does not see the body of a semi in front of him until it is too late. Unfortunately there are no regulations for side safety bars and the fatality rate for this type of accident is more often fatal. A typical scenario is a truck driver making a slow left turn when an oncoming driver fails to notice and a collision is inevitable.
Under ride accidents are gruesome. Which is why the federal government has stepped in with preventive measures to try and avoid them. Still, thousands are seriously injured or killed when a truck is not in compliance. If you have lost a loved one in a under ride accident or where injured in one yourself, contact the Law Office of James M. Hoffmann. We can evaluate your case for free and help you determine what your legal options are.
Workplace Injury and Accident Causes
photo credit: greaterfalls

Updated: